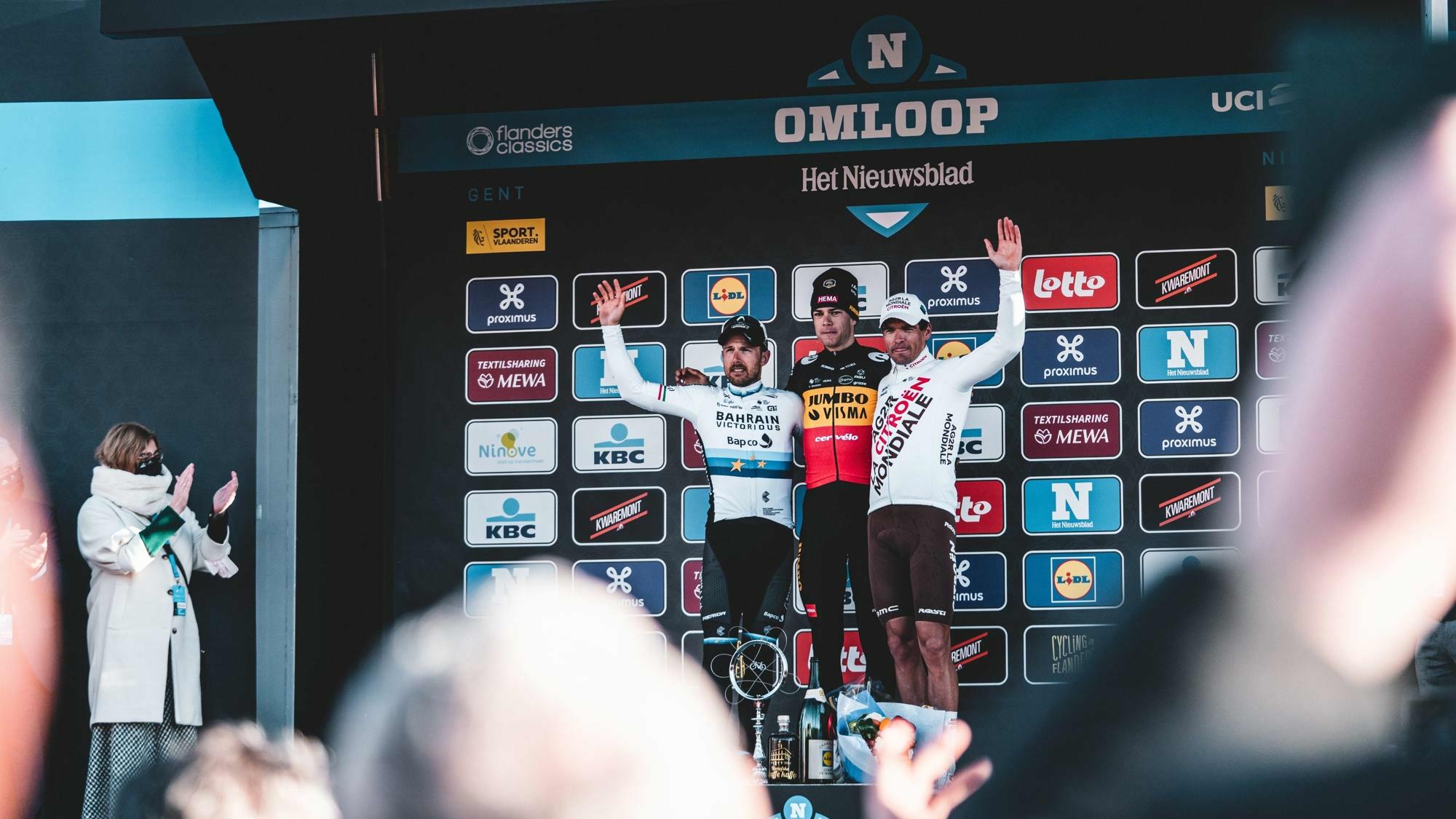 Ninove to be the finish of the Omloop het Nieuwsblad until 2025
Ninove to be the finish of the Omloop het Nieuwsblad until 2025
In 2018, the Omloop Het Nieuwsblad was contested between Ghent and Ninove for the first time. Since then, the finale with the Muur-Bosberg duo has become an integral part of the opening classic. Flanders Classics and the city of Ninove are therefore delighted to announce that, for the coming three years, the finish for this race will continue to be in Ninove.
Five years ago the finish of the opening classic on Flemish soil was brought to Ninove. Resident of Ninove and inspirer of the race, Willy Verlé, put his life and soul into the project but sadly passed away last year at the age of 80. In this renewed edition, the race arrived at the Halsesteenweg in Meerbeke, a borough of Ninove, which, until 2012, also used to mark the finish of the Tour of Flanders. But because of the international character of the Omloop Het Nieuwsblad and its growing popularity, the finish line was moved a year later to the city centre.
After a successful spring, Flanders Classics is already looking forward to that traditional first WorldTour race on European soil in 2023. Tomas Van den Spiegel, CEO of Flanders Classics, is pleased that the route from Ghent to Ninove is being retained: "The traditional finale over the Muur-Bosberg has provided fantastic winners in both men's and women's races in recent years. Furthermore, as from next year, the women race will get UCI Women's WorldTour status."
Valgren, Stybar, Stuyven, Ballerini and Van Aert were the ones who triumphed there in the men's race in the last five years, as did Siggaard, Van den Broek-Blaak, Van Vleuten (2x) and Van der Breggen in the women's race. In the coming three years, big names will thus once again be taking their place on the podium in the cycling city. And this, after an undoubtedly exciting battle in the Flemish Ardennes, where the Haaghoek-Leberg duo fulfils its key role in the prelude to the finale, which is characterised by the Muur van Geraardsbergen and Bosberg.
Mayor Tania De Jonge adds: "I am particularly pleased that we can welcome the arrival of the Omloop Het Nieuwsblad in Ninove for the coming three years. This opening classic gives our beautiful town an international allure. This extension is also a tribute to the inspirer of this Omloop, Willy Verlé. The previous two editions were limited by corona, but we are now looking forward to the next edition to make it another great cycling festival!"
So we will once again find out who the successors to Wout van Aert and Annemiek van Vleuten are at the finish in Ninove of the 78th Omloop Het Nieuwsblad next year.