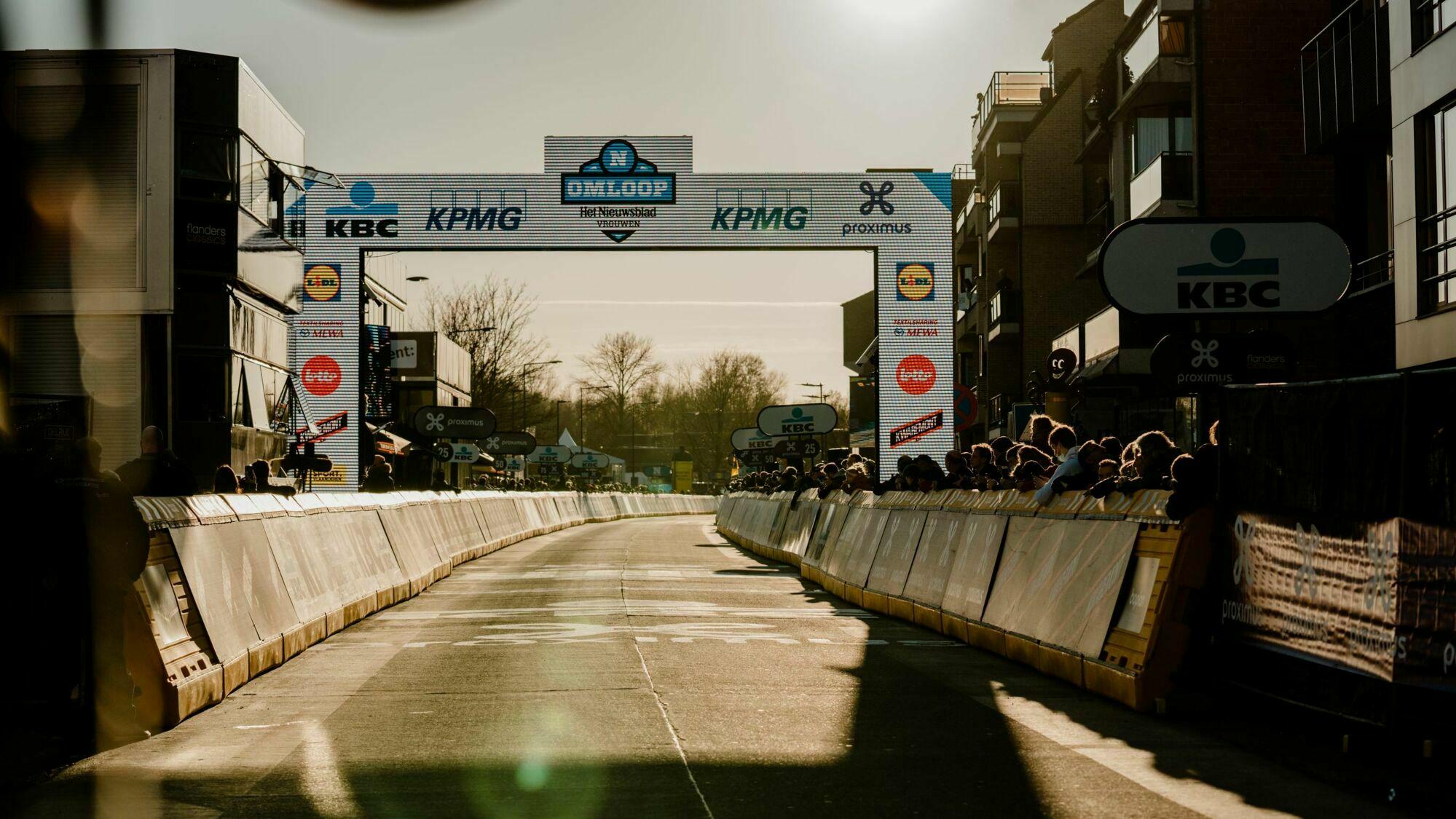 As from 2023, the opening classic will finish on the Elisabethlaan
As from 2023, the opening classic will finish on the Elisabethlaan
Ninove and Omloop het Nieuwsblad extend their collaboration for three years. Thus, until 2025 at least, the finish of the opening classic will be in Ninove. However, as from 2023, the finish line will move from the Onderwijslaan to the Elisabethlaan. The Muur van Geraardsbergen and Bosberg finale is retained.
Also in 2023, Omloop het Nieuwsblad will be the first European WorldTour race on European soil and moreover, next year, for the first time for both the men and the women. In Ghent, on Saturday 25 February, the men will begin their 78th and the women their 18th edition of the opening classic. They will once again finish in Ninove which, with the extension, will also be the finish in 2024 and 2025.
Mayor Tania De Jonghe: "We are delighted to be once again the host city for this beautiful opening classic for both men and women. Until 2025, "Omloop het Nieuwsblad" will finish in our city with a beautiful new finish line, the Elisabethlaan, the new Via Roma in Flanders. Race time means party time, it connects people. We are already looking forward to Saturday 25 February 2023."
The finish remains in Ninove and that will continue to be so for the next three years. What will change, however, is the location of the finish line. As from 2023, it will be on the Elisabethlaan and no longer on the Onderwijslaan. "First of all, we are proud to be able to extend our collaboration with the city of Ninove and the Omloop Finish Team for at least three more editions", says Nicolas Denys, Head of Road for Flanders Classics. "The move of the finish to the Elisabethlaan will bring a more sportingly attractive final kilometer. The finish there is wider and also slightly uphill. Moreover, this finish also gives us more space at an organisational level. The connection with the centre of Ninove is obviously very important and remains so with the team buses parked in the Centrumlaan."
Molenberg and Lange Munte back as part of the course
After the start in Ghent, the men and women will be served up with a course of 207 and 132 km respectively, with few changes along the way compared to 2022. Once again, a key role will of course be played by the Haaghoek-Leberg duo. Furthermore, the Molenberg and Lange Munte return to the event. The Molenberg, not part of the route of the opening classic last year because of roadworks, marks at 40 km the identical finale for both the men's and women's race. After the Molenberg, the Haaghoek-Leberg duo awaits (the third and final passage in the men's race), followed by Berendries and Elverenberg-Vossenhol. In the full finale, the Muur van Geraardsbergen and the Bosberg are also present in 2023 and 12 km further on we will be crowning the successors of Wout van Aert and Annemiek van Vleuten on the Elisabethlaan in Ninove.