Saturday 2 July was a special day for Lotto Soudal U23 rider Luca Van Boven. After a very strong race during the Omloop Het Nieuwsblad U23 on his local training roads, the rider from Sint-Lievens-Houtem was able to raise his arms in triumph as his supporters cheered loudly.
The Omloop Het Nieuwsblad U23 took off in Borsbeke (Herzele) for a 155-kilometre race. In the initial phase, four riders were able to break away from the pack, but when that pack rode towards Wolvenberg, Van Boven knew what he had to do: "During the tactics discussion before the race, it was said that we should do a breakaway on the Wolvenberg."
And that's just what the rider of the Lotto Soudal U23 team did. "I accelerated away and was told at the top that I'd created a gap. I decided to go for it on my own and was able to reach the leading four." The five riders worked together well, but Van Boven noticed that he and Siebe Deweirdt were the strongest links in the leading group.
On the Muur van Geraardsbergen it was once again Van Boven who accelerated. Only Deweirdt was able to follow on the cobblestones of the Kapelmuur and the two riders broke away definitively from their three companions. Van Boven had a very exciting finale: "After the Muur, the only slope still waiting for us was the Bosberg, but in the last 40 kilometres we faced a strong headwind. We both continued to work well together, which was necessary, because behind us a group of about 10 riders had formed and they were chasing us hard."
(continue reading below the picture)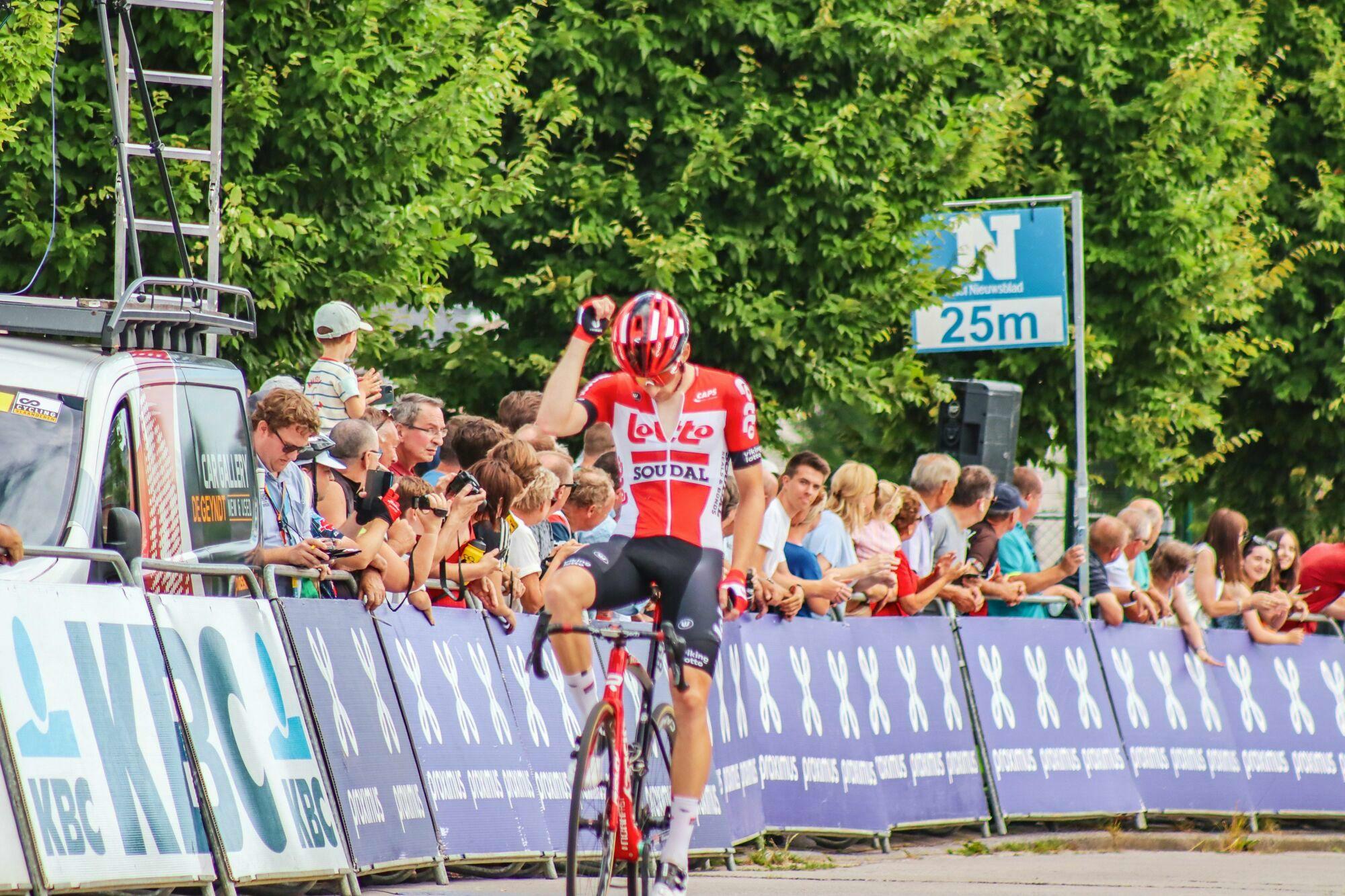 Van Boven pulled out all the stops and was loudly encouraged by his supporters in his home town: "When we rode on to the Grote Markt in Sint-Lievens-Houtem, I got goosebumps. What's more, I saw many familiar faces lining the route." However, the home rider was not yet sure of victory at that point: "The last few kilometres to the finish were all big, wide roads where the group following us could constantly see us riding. When I was told in my earpiece at 3 or 4 kilometres from the finish that the lead was only 12 seconds, I decided to attack one last time 2 kilometres from the finish."
And that turned out to be the right choice. Van Boven finished solo a few seconds ahead of the following group. "It's great to add a race like this to my list of wins, and to do so in front of my home crowd. We partied pretty hard afterwards," he says with a smile. With his victory, Luca Van Boven succeeds former teammate Arnaud De Lie (who will be riding for the Lotto Soudal WorldTour team this year): "I was also there last year when Arnaud took the victory for Lotto Soudal U23 in this race. So it's great that the wins are staying within the team!"